Mini Masters




An Art Education Project for the Hilliard Society
For the past two years, Jenny Brooks Dip.AD. ATC.RMS.HS. Dip.SBA(Dist) has kindly organised a Mini Masters Project to encourage children and young people to have a go at Miniature painting. The children's entries are then exhibited alongside the annual exhibition in Wells Town Hall.
Mini Masters 2019
The two age groups are 7 to 10 years and 11 to 18 years.

Subjects – for the 11 to 18 years are: (please complete both A and B)

A: A Portrait of a Family Member and

B: A Decorative Illustrated first letter taken from the family surname.

Subjects – for the 7 to 10 years are: (please complete both A and B)

A: A Portrait of a Family Member and

B: An Image of their Favourite Hobby.


If you are interested in entering, or know a young person who would like to, please apply to Jenny Brooks via email - fejennybrooks@blueyonder.co.uk for the official Hilliard Society Mini Masters Art Education Project 2019 Entry Form and Terms and Conditions Form available from October 2018.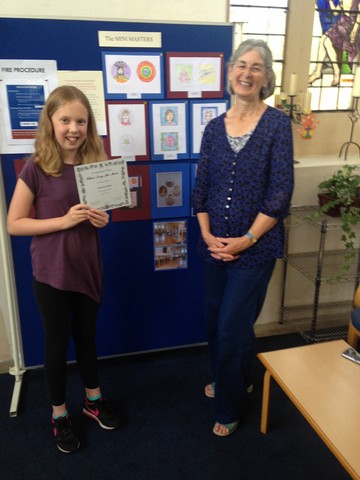 In 2017 two age groups were invited to paint a portrait based on Holbein's famous work of Anne of Cleves (with the kind permission of Victoria and Albert Publications) and in 2018 they were invited to submit paintings of their pets or the view from their window, working from life or their own images. Certificates are awarded for each entry completing the project.
Right - One of last years successful young artists, Charlotte, receiving her Certificate for Exceptional Art Work for the 2017 'Anne of Cleves' project from Jenny Brooks.