Mini Masters




An Art Education Project for the Hilliard Society
For the past three years, Jenny Brooks Dip.AD. ATC.RMS.HS. Dip.SBA(Dist) has kindly organised a Mini Masters Project to encourage children and young people to have a go at Miniature painting. The children's entries are then exhibited alongside the annual exhibition in Wells Town Hall and in 2019 the Project was sponsored by Great Art who provided two awards of art materials to encourage the young artists.
mini masters 2020
If you would like to take part in the Mini Masters Educational Project in 2020, or know a young person/s who would, please get in touch with Jenny Brooks for entry forms and full details. Email: fejennybrooks@blueyonder.co.uk.
The subjects for 2020 are:
11 - 18 years - A. Recent Holiday Landscape.

B. Portrait of a relevant Character in the Landscape.

7 - 10 years - A. A recent Holiday Landscape.

B. A portrait of a relevant Animal in the Landscape.
Although the Hilliard Society Annual Exhibition 2020 has had to be cancelled, Jenny is running the Mini Masters Education Project 2020, with an extended deadline of 27 July 2020.
This will be followed by a display of all the art work at St .Mary's Church, Shirehampton, Bristol , BS11 ODW, hosted by the Rev. Helen Johnson, whenever the Corvid-19 has abated. Prizes have been kindly sponsored by Mary Powell, a member of St Mary's Church. www.stmarysshire.org

Details for the Mini Master Art Project 2021 will then be made available in late Autumn, 2020. Following on from this, both the Mini Masters 2020 and 2021 art work will then be included in a joint exhibition with The Hilliard Society Annual Exhibition 2021 in The Town Hall, Wells, Somerset.
In 2019 the winner of the Great Art Award for 11-18 age group (Portrait of a family member and a Decorative Illustrated Letter) was Grace, aged 11, for 'Brother William' and 'Letter M'. Highly Commended was Lauren, aged 13.
In the 7-10 age group (A Portrait of a Family Member & An Image of their Favourite Hobby) the winner of the Great Art Award was Lottie, aged 9, for 'Sam My Brother' and 'Musical Violin'. Highly Commended runner up was William, aged 9 (also pictured left with Jenny).
The art work from both age groups showed lively sense of imagination, good use of colour and graphite and a lovely sense of humour and made for a small but very select exhibition.
The Mini Masters is a wonderful way of encouraging the young miniaturists of the future and getting them onboard with the Hilliard Society and the miniature world!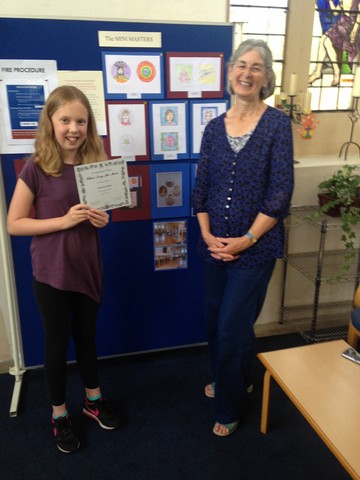 In 2017 two age groups were invited to paint a portrait based on Holbein's famous work of Anne of Cleves (with the kind permission of Victoria and Albert Publications) and in 2018 they were invited to submit paintings of their pets or the view from their window, working from life or their own images. Certificates are awarded for each entry completing the project.
Right - One of the successful young artists, Charlotte, receiving her Certificate for Exceptional Art Work for the 2017 'Anne of Cleves' project from Jenny Brooks.