The Council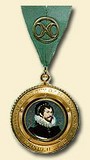 The Hilliard Society is run by a council of approximately 14 elected members and is governed by a constitution. The council are elected for two years.

From these members the officers are chosen by the rest of the council. All may stand for re-election. Formal meetings take place usually twice a year with regular informal discussions at other times.


Meet some of the council members below:

Maggy Pickard (President) HS rms
I have been a member of the Hilliard Society since 1997 and I am a member of the Royal Miniature Society. I organised a local art group for over 30 years and, together with partners, owned a small gallery in Oxfordshire which specialised in exhibiting the work of local artists.
Maggy was elected President of the Hilliard Society in 2018.
Rosalind Pierson CFA(Oxon), PRMS, PPHS, MAA, MASF
Rosalind has been a professional miniaturist for over thirty years, specialising in watercolour landscapes, and she is a co-founder of the Society.

Awarded The Royal Miniature Society Gold Memorial Bowl 2012, she served as President of the RMS from 2014 to 2019.


Heather O. Catchpole PPHSF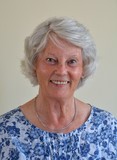 Heather trained as a commercial artist in the sixties, in South Africa before coming to live in England. She established herself as a successful artist in pastels, of portraits both canine and human and it was in 1980 when she began painting and exhibiting miniatures in watercolour on ivorine.
Her love of dogs, together with her talent and sense of humour all come together in her book 'Heidi, Holly and Other Dogs' – a must for every dog lover!
William P Mundy RMS HS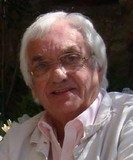 Bill is the only living artist to have a miniature in the permanent collection of the Victoria and Albert Museum. Also winning the Exhibit of the Year award on two occasions at the RA Summer exhibition, he is one of the original members of the Hilliard society joining in 1982.
After a five year apprenticeship as a lithographic artists Bill spent his military service as a cartographer eventually living in Asia for 20 years. There he became 'court painter' to the Johore Royal Family but returned to England in 1978. His career has resulted in many awards from many societies.
Jenny Brooks Dip AD, ATC, RMS, HS, MASF, SWA
Jenny has been painting and drawing since childhood and after a long teaching career in schools she now combines her freelance work as one of the country's foremost portrait miniaturists, with teaching botanical painting at the University of Bristol Botanic Gardens and at her nearby village hall at Abbots Leigh, and annually at the Wye Valley Arts, Llandogo.
Malcolm Brown hs
Malcolm is an amateur artist who is self taught. He has been a member of the Hilliard society since 1993 and has exhibited at the annual exhibition since then. He has also been a member of The Royal Miniature Society since 1994 and was a council member from 1999 to 2001. In 2015 he and his wife were lucky to be able to move near to the beautiful city of Wells and so Malcolm has been able to take a more active role in the Hilliard Society. He won the Bell Award for Portraiture in 2016.
CAROLINE jONES
Caroline is not an artist herself but has a long association with the Hilliard Society which began when her father first exhibited with the Society towards the end of the 1980's.
Caroline is an Honorary Member of the Society and has served on the Council for a number of years.
PETER HAYTON HS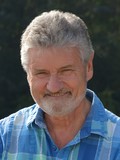 I have loved drawing and painting for as long as I can remember. My Mother, Gladys Hayton, was a member of the Hilliard Society and the Royal Miniatures Society and I have followed in her footsteps exhibiting at the Royal Miniatures Society, Hilliard Society and Society of Limners. I have run, with my wife Anne, the Towngate Art Group that encompasses gallery, framing and fine art printing for over thirty years and now also run Polymers Plus making miniature frames for miniaturists and collectors around the world….as well as painting my miniatures.
Tracy Hall hs, rms, maa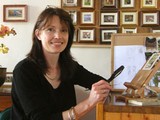 Tracy is an artist and illustrator from Scotland. First introduced to miniature art in 2007, she was instantly hooked and was delighted to be awarded The Royal Miniature Society Gold Memorial Bowl the following year. She hasn't stopped since and loves every minute, fitting in her miniature paintings amongst her illustration work as time allows.