Jane B Gibson RMS HS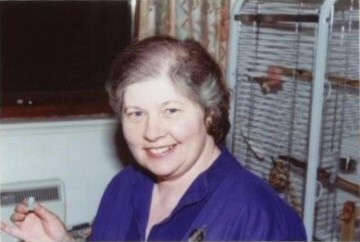 Born in Smithton, Tasmania, to Scottish Parents, I moved to Kirkcudbright in Scotland when I was nearly five years old. Here I attended primary schools and Kirkcudbright Academy. I trained to teach Art and Geography in Newcastle before deciding to concentrate on Art, full time. I completed a foundation year in Art at Carlisle College of Art and Design, followed by a BA(Hons) degree at Norwich School of Art. Norwich was the only venue in the country to offer wildlife illustration as part of the Graphic Design course.
My love for illustration led me to study Fashion and Textiles. I worked as an illustrator and designer in Norwich. I decided to return to Kirkcudbright in 1981, for a year, to paint as a full time occupation. Demand for my work encouraged me to stay. I am still working from my home and studio in Kirkcudbright.
In 1984, I was elected artist in residence to the Dorothy L. Sayers Society, painting the Coat of Arms of Harriet Vane and Lord Peter Wimsey in the form of pendants, brooches and paperweights, which are sent all over the world to members. I attended my first exhibition at the Royal Society of Miniature Painters, Sculptors and Gravers (R.M.S.) in 1995. Following subsequent successful exhibitions of my Miniature paintings, I was elected an associate member of the Royal Society of Miniature Painters, Sculptors and Gravers in 1998 and elected a full member in 2001. I was elected a full member of the Hilliard Society of Miniaturists (H.S.) in 1998.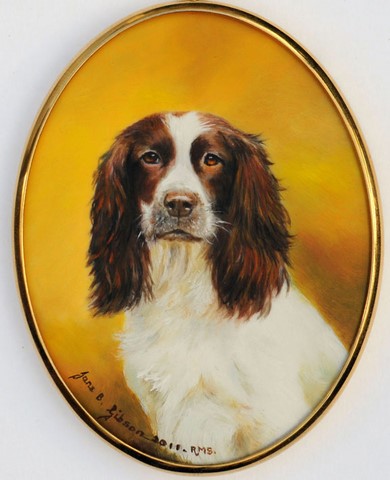 This miniature of 'Teal' the Springer Spaniel is currently being used as a stage prop for 'The Play That Goes Wrong' which is touring the UK and USA after a very successful Tony Award winning Broadway show, having won the award for Best Set Design.
'The Play that Goes Wrong' also won the Olivier Award for best new comedy in 2014 and they were invited on The Royal Command Performance in the same year.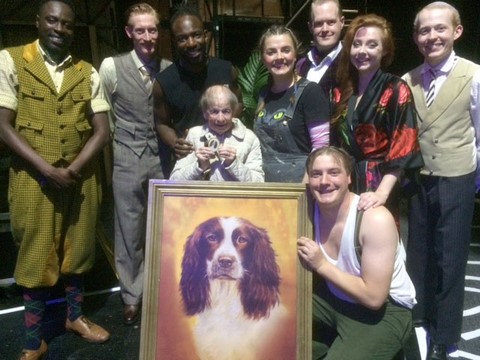 'Teal' is a miniature measuring 3.5" x 2".5" which they have blown up and framed.

They say it's their lucky mascot and a big feature in the Play - he is known as 'Uncle Charles'! Teal's Owner Christine, who commissioned the portrait, is pictured here with members of the cast.